We're Getting Mutants in the MCU - The Loop
Play Sound
The new logo contest is an indefinite contest that ends when a new logo is picked. The logo is the picture on the upper left hand corner, under wikia. When you've finished creating the picture, title it "yourusername_logo".
---
A picture must...
be appropriate, meaning it must have something to do with Mass Effect.
be under 250x200 pixels, anything of that size or above will be cropped down.
have the words "Mass Effect Fanon" clearly written on it.
not have anything vulgar in it.
be a PNG file.
Nominations
Post you logo here in order for it to be voted on. Follow this format when nominating your picture:
===Your Username===
[[File:insertpicname.png]]
==== Support ====
==== Neutral ====
==== Oppose ====
==== Comments ====
---
I_Am_The_Clayman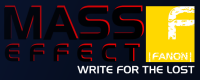 Support
Neutral
Oppose
Comments
I can make the background for this image lighter if anyone would like. I just though the dark look better fitted the Mass Effect feel. [ I Am The Clayman 15:50, February 16, 2010 (UTC) ]
I_Am_The_Clayman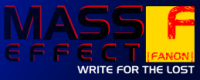 Support
Neutral
Oppose
Comments
This is in my opinion a cleaner, better looking version of my above entry. [ I Am The Clayman 16:42, February 16, 2010 (UTC) ]
In order to see how all the logos would, I am adding them to the wiki for a couple days each. This one will be first, EM117's will be next.-BluethunderContact 16:34, March 26, 2010 (UTC)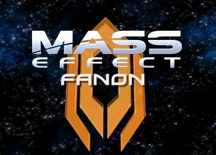 Support
Neutral
Oppose
Comments
My submission. A clean, simple background. Converted to PNG already.

I've uploaded your logo, it may take a few minutes to become visible.--BluethunderContact 18:35, March 29, 2010 (UTC)
Now, this isn't an image, its a proposition. How about we apply for a new layout from the Wikia team. We meet all the requirements and it'd be nice to have a different appearance than the Mass Effect Wiki. Another upside is that we can change it for any reason. Please consider this. See these examples: Red Dead Wiki and How to Train your Dragon Wiki.
Support
I think this could really help our wiki. -BluethunderContact 18:28, July 13, 2010 (UTC)
It's already been requested? Good.
Oppose
Comments
I just made the request, but it may take a while for it to be approved. If you have any concerns, be sure to state them. -BluethunderContact 17:50, July 20, 2010 (UTC)
I don't know if your having these problems or not, but if you are, it'd be nice to have a skin where we can see the words in the thumbnails attached to in article images. —InfernalWarrior [ talk ]

I'm not having that problem, but I'll see if I can make sure our new skin won't have that problem. -BluethunderContact 02:07, July 24, 2010 (UTC)

Good news, Merrystar, a wikia staff member, said the request should be approved later this week or next, then we'll just have to wait and see what they make. -BluethunderContact 17:43, July 30, 2010 (UTC)