Feel free to post! I may not be on all the while, but I'll gladly reply when I get your message!
Please sign all posts with four tildes (~~~~).

Please be kind.

If we get into a disagreement of some kind, please don't take it personally. It's just a disagreement, not an "I hate you" statement.

I implore that you keep your headings descriptive. Kinda helps me out a little.
And be nice to other peoples message as well, and do not interject into a
message you have no part of.
Adoption request
Hi. I've given you admin and bureaucrat rights on this community as you requested. You now have the tools you need to clean up, customize, and maintain the wiki.
Check out your Admin Dashboard, which can be found by clicking "Admin" on the bottom toolbar. It has links to all your new tools. Please let me know if you have any questions, and good luck with the wiki! JoePlay
(talk) 17:27, October 21, 2019 (UTC)
Character infobox template update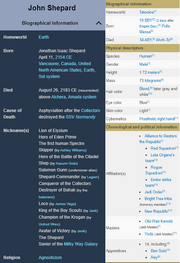 Hey Atlantis, I've got a curious question I'd like to ask you. Could I get some help me update my 
Template:Character bio
 so it'd be somewhat similar to a 
Mass Effect
/
Star Wars
 mix. Something like this by comparison: Is it possible? Thanks. I'd like to hear back from you soon.
Community content is available under
CC-BY-SA
unless otherwise noted.